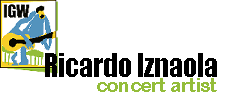 back

icardo Iznaola's distinguished performing career includes innumerable concert performances at venues like Wigmore Hall (London), Merkin Hall (New York City), Hercules Saal (Munich), Grande Salle de l'Unesco (Paris), Ishibashi Memorial Hall (Tokyo), Auditorio Nacional (Madrid), Teatro Municipal (Caracas), Gran Teatro de la Maestranza (Seville), the Philharmonic Society (Bilbao), the Manuel de Falla Auditorium (Granada), as well as many music festivals in the United States, Europe, South America and Japan. He has been guest soloist with numerous orchestras under the batons of conductors Murray Seidlin, Keith Lockhart, Theo Alcántara, Donald Johanos, David Lockington, Manuel Galduf, Gerhardt Zimmerman, James Setapen, Stephen Alltop, and many others. From 2001 to 2012, he was a member of the prestigious artist-faculty roster at the Bowdoin International Music Festival in Brunswick, Maine (USA), where he performed in solo and chamber music appearances, collaborating with artists like Lewis Kaplan and Sergiu Schwartz (violin), Emma Tamizian and Peter Basquin (piano), Laura Gilbert (flute), June Han (harp), and many others .
His eclectic, vast repertoire encompasses five centuries of music for the guitar, with particular emphasis on the literature produced by great Latin American and Spanish composers. Critics have been unanimous in highlighting the importance of his re-discovery and promotion of the monumental Sonata by Antonio José, his interpretations of music by the Spanish composers of the so-called Generation of 1927, and his unique transcriptions of piano and orchestral masterpieces like Chopin's Waltzes, Ravel's Alborada del Gracioso, or Manuel de Falla's Ritual Fire Dance, never before attempted for solo guitar.
An artist of charisma, charm and authority, his performances are characterized by immediate rapport with his audiences, who respond with enthusiasm to his virtuosity and intense musicality.
"A technical wizardry which I have not heard"
from another instrumentalist except"
for the best of Heifetz and Horowitz."
John Tuska - Classical Magazine"

back