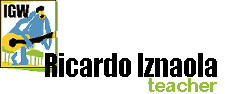 back

qually renowned as a master teacher, Ricardo Iznaola, now a Professor Emeritus, retired in June 2015 from his tenured appointment as Professor of Guitar, Chair of the Guitar and Harp Department and Director of the Conservatory Program at the Lamont School of Music of the University of Denver, where he served for 32 years and has been honored with the Lamont Distinguished Faculty Artist Award in 1990 and the 1999 University Lecturer Award. In 2004, he was awarded the Distinguished University Professorship, the highest distinction bestowed by the University of Denver.
His students have won prizes and have placed as finalists in numerous prestigious competitions, including the Guitar Foundation of America International Competition, the Andrés Segovia Competition, the WTNA-Wurlitzer Collegiate Artist Competition, the Manuel Ponce Competition, the Tokyo International Guitar Competition, etc.
Celebrated for the dynamism and effectiveness of his masterclasses and residencies, he has been invited to offer them at institutions like Yale University, Indiana University, the Royal Academy of Music, Guildhall School of Music, Trinity College of Music, the Yehudi Menuhim School, the Chetham School, Mannes College of Music, Manhattan School of Music, the Cleveland Institute of Music, the San Francisco Conservatory, the New England Conservatory, the North Carolina School of the Arts, and Oberlin College, among many others. Mr. Iznaola was a member of the distinguished faculty/artist roster of the prestigious Bowdoin International Music Festival, in Brunswick, Maine, from 2001 to 2012. At Bowdoin, Mr. Iznaola taught individual lessons, coached chamber music and offered weekly Masterclasses for six weeks every summer
In addition, he has served as adjudicator in many of the world's most important guitar competitions, including the Guitar Foundation of America Competition (U.S.A.), the Francisco Tárrega Competition (Spain), the Alirio Díaz Competition (Venezuela), the Manuel Ponce Competition (México), the Seto-Ohashi Competition (Japan) and the Pittaluga Composition and Performance Competitions, among others.
Mr. Iznaola has been distinguished with Honorary Membership in the European Guitar Teachers Association - U.K. Chapter, Phi Beta Kappa National Honors Society and Pi Kappa Lambda Honors Music Society.
"One of the most seminal players, teachers"
and thinkers of the guitar scene today."
John Holmquist"
former Professor and founder of the guitar program at the Cleveland Institute of Music"

back