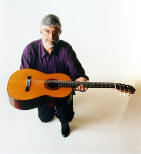 he following list spans more than three decades of impressive recordings, thought-provoking articles and publications that have become indispensable in any guitarist's library.
Some of these are available in our WEBSTORE
. Those marked with a

are available free of charge.
Just follow the link.
In the near future, we will include a "Downloads" (both free and paid) area where our friends will have access to sound files, musical scores and writings. Please check frequently for updates.

Books


Articles


Music


Recordings

In progress
Summa Kitharologica — A Comprehensive Treatise on the Art of Guitar Playing

2000
On Practicing
Third edition. Pacific (Missouri): Mel Bay Publications. [info]
1998
The Physiology of Guitar Playing
Reading (UK): The University of Reading [info]
1997
Kitharologus: The Path to Virtuosity
Third edition. Pacific, Missouri: Mel Bay Publications, and Heidelberg: Chanterelle Verlag [info]